Weakness Our Strength: Learning from Christ Crucified
Weakness Our Strength: Learning from Christ Crucified
Weakness Our Strength: Learning from Christ Crucified by John Hindley
We long to be strong, sorted and secure. And we want this for our families too. Naturally. But what if strength, as we understand it, isn't part of God's plan? What if weakness is his way?
"Jesus would not have made us weak if we were meant to be strong," says John Hindley. "He would not have redeemed us in weakness if he had valued strength." The author looks at Jesus, at the cross and at the work of the Holy Spirit in our lives as he pursues his theme.
He concludes, "God did not seem to want strength when he created the cosmos." "The world is wrecked. The sails hang in tatters, too many planks have sprung, the pumps are overwhelmed, and the crew is panicking. Yet look at the Captain. His scarred hands are steady on the wheel, his whip-cut back is straight and his eyes are fixed. In his steady gaze you see the hope of safe haven. As you keep your eyes on him, you know the ship cannot be lost. You will make that bright shore, and it will be all you hoped for. More than that even."
This honest yet hope-filled book will transform your thinking and reassure your heart: weakness is not just okay; it is God's way.
Other Formats
Interviews
An Anchored Hope (Ruth Clemence)
Other books by John Hindley
Suffering and Singing: Knowing God's Love in Pain and Despair
Endorsements
"Could another book on weakness actually say something 'new under the sun'? Something that will help sufferers like me who struggle with pain and paralysis? If you assume there's nothing fresh to write about our weakness, God's strength, and the connection between them, then think again. John Hindley's newest release, Weakness Our Strength, will utterly surprise you. Perhaps it's his own journey on the tender yet torturous path to the cross, a road many Christians are reticent to even tread. It could be the way he handles the subject like a prism, refracting gospel-light to reveal hues and shades of truth we've never noticed before. I can't say. But I know this: the author has a way of gently taking the walking wounded by the hand and placing that hand on the Saviour's heart. It's why I love this book and am commending it to everyone for whom weakness is a way of life. Thank you, John Hindley; I give your newest work my hearty recommendation."
Joni Eareckson Tada,
Founder and CEO, Joni and Friends International Disability Center, conference speaker, author, and artist
"So many Christians have fallen for the miserable lie that in order to build up the church and impress the watching world we need to pretend to be strong. The truth is that we are weak, and Hindley urges us all to come clean and admit our weakness—and let it drive us to the One who is strong. The book is itself a lovely illustration of its own message—it is full of honest and illuminating examples from the author's life.  I hope lots of church leaders will read and take this book to heart. If they do, then church life will be very different: churches will be beautiful places where people are set free to humbly depend on one another and on the Lord in ways that really build up the church and point a watching world to the glory of One 'whose power is made perfect in weakness.'"
Mike Cain,
church minister and author of Real-Life Jesus
"John Hindley's honesty is refreshing, relatable, and real as he humbly shares his personal illustrations of weakness. But he also shows us how Christ's own experience of weakness can strengthen us. This book is a comfort, a reassurance, and a beautiful reminder that 'weakness can be a route into the very heart of God.' A brilliant book! And very easy to read, too. It definitely gave voice to some of my own thoughts as I wrestled with my own weakness."
Ruth Clemence, 
writer, blogger at ruthclemence.com, podcaster, and book reviewer
"In an age that can overvalue the strong and stigmatise the weak, John Hindley identifies the imposter in all of us that can appear competent but fears exposure. The fact is that we are needy, and this book leads us to the One we desperately need. What a relief! This book is biblical, readable, and accessible to all levels within a church community. It will probe your relationship to your own weaknesses, both as a sufferer and a sinner. Whilst helpful at an individual level, it would be an immensely beneficial book for a church to read together. At a time when stress and weariness are particular struggles in the body of Christ, and resilience much sought after, Hindley leads us to depend on a slain Lamb who is also the Power and Wisdom of God. Through personal illustration, too, we see how the Lord works surprising strength through our weaknesses. Highly recommended for both personal and corporate strengthening." 
Andrew Collins,
Certificate Course Director, Biblical Counselling UK, biblical counsellor,
and former consultant psychiatrist
"Weakness Our Strength. What a strange title in a world that hates weakness and hides it behind all sorts of masks! John Hindley admirably shows us how this divine paradox is inevitably linked to our growth into Christlikeness: God's power is made perfect not so much in spite of our weaknesses, but through them. I am very impressed by the way Hindley connects the truths of the Bible with everyday life. His practical and thought-provoking style makes Weakness Our Strength a source of inspiration and personal renewal."
Pablo Martinez,
psychiatrist, conference speaker,
and author of A Thorn in the Flesh
"The idea that our Maker intended us to be limited, and even weak, seems counterintuitive to modern ears, and perhaps even dangerous. But my overarching sensation while reading John Hindley's new book was one of immense relief. He says nothing that will be unfamiliar to readers of the Bible, but he brings deep personal experience, and above all honesty, to bear on what can be a very difficult subject, which is what makes this book so refreshing.  If all the leaders of our churches and organizations took even half of what this book teaches to heart, then these would be very different places: safe, open communities where those all too aware of their own weakness and failings need not fear getting crushed by the perfectionism, bravado, or facades of so much of church life. I'm immensely grateful to John for this book!"
Mark Meynell,
Director (Europe & Caribbean), Langham Preaching,
and author of When Darkness Seems My Closest Friend and What Angels Long to Read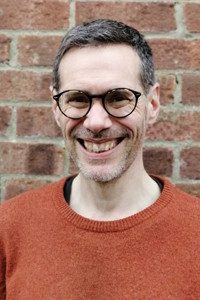 John Hindley is the pastor of BroadGrace church in Norfolk, UK and the author of Suffering and Singing: Knowing God's Love in Pain and Despair and Serving without Sinking. He studied for ministry at Oak Hill College. John is married to Flick and they have three children.
We Are Weak
Christ Crucified: The Heart of Weakness and Strength
Weakness Our Strength: Don't Run Away!
Weakness Our Strength: Don't Hold onto It Too Tightly!
Our Weakness as Creatures
Our Weakness as Sons of Adam and Daughters of Eve
Our Weakness as Sinners
Our Weakness as Churches
Our Gospel Is Weak
Christ Crucified and Risen: No More Weakness and Strength
Conclusion: Don't Fear Weakness